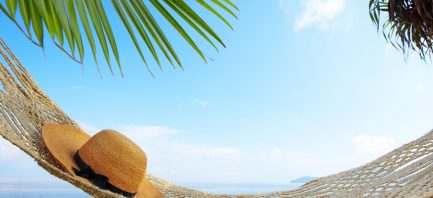 Summer is the most popular season for traveling, and with so many different options it's not hard to see why. Summer is the time of year when you'll find good weather just about anywhere you go, but remember – just because you may be experiencing tropical conditions in your own backyard doesn't mean you can't visit a new tropical destination.
Aruba
Nothing beats a tropical destination, especially one that is outside of the hurricane corridor and that doesn't experience the rainy season most other tropical islands do during this time of year. With miles of white sandy beaches and turquoise waters, Aruba is often thought of as the most beautiful of all the Caribbean islands. Don't worry about it being too hot either; temperatures usually stay in the 70s or 80s.
View Aruba Vacation Rentals
Cancun, Mexico
Cancun, Mexico offers all the same sandy beaches and relaxation that any tropical location will bring you, but it comes with the added benefit of having a ton of history attached to this piece of the Yucatan Peninsula. It's here that the gateway to the Mayan World, the El Mundo Maya, is located; and you can even walk around ancient Mayan ruins. There are plenty of reasons why Cancun is ranked as the number one international destination year after year.
View Cancun Vacation Rentals
Nice, France
Nice doesn't really experience a winter, but the summer months are definitely when you'll find the ideal weather here and lots of daylight – something not seen in the winter months. It's also in the summer when Nice best blends its beautiful beaches with its busy hustle and bustle city lifestyle, giving you the best of both worlds. You can still have that secluded beach vacation, but still while going to local markets and designer boutiques, and experiencing a great nightlife!
View Nice Vacation Rentals
Paris, France
If you're thinking of visiting France, there are lots of options and Paris is always one of the most popular. Summer is an especially great time to visit here as baristas throw open their doors to set up their patios, and you can spend an entire afternoon just people-watching. When it's time to get up and about, you can visit the Eiffel Tower, the Louvre, Notre Dame de Paris, or the Champs-Elysees.
View Paris Vacation Rentals
Martha's Vineyard, Cape Cod
Massachusetts, the state in which Martha's Vineyard is located, definitely sees a winter, and it's often a brutal one. That's why each year tourists come from all over the country, and the world, to take in the beauty and relaxation that Martha's Vineyard has to offer – and in gorgeous summer temperatures. Breathtaking scenery, fishing expeditions, and strolls along the beach are just a few of the attractions Martha's Vineyard has to offer.
View Martha's Vineyard Vacation Rentals
Amsterdam, Netherlands
There's really never a bad time to visit Amsterdam, a city that is rich in culture, history, and intriguing architecture. But the winter months do get very chilly here, and the Dutch people can't wait to get out and celebrate once the warm weather comes – and celebrate they do! During the summer Amsterdam comes alive with many different festivals, sightseeing tours, and other events. Outdoor sports are very big in Amsterdam at this time of year too, as people want to make the most out of the weather so be prepared to hop on a bike and take your own tour of this incredibly vibrant city!
View Amsterdam Vacation Rentals
Seattle
Whether you want to take in a Mariners game, or just visit the birthplace of Starbucks, Seattle is a great place to visit and summer is a great time to do it. The rain has mostly left for the next few months, and there's so much to see and do! The Space Needle is an obvious choice, especially for those who have never been to the city, and a visit to Pike Place Market will give you a chance to visit the very first Starbucks. Of course, the Seattle Aquarium and the Seattle Art Museum are also both reasons why tourists flock here every summer.
View Seattle Vacation Rentals
Summer continues to be the perfect time to vacation for one reason – you can go just about anywhere in the world and know you'll be met with beautiful weather. Whether you're crossing international borders or sticking a little closer to home, planning a summertime trip is always a great way to get away from it all and see something you never have before!